Working in partnership with Pamodzi Creatives, Portsmouth Creates undertook a series of workshops with schools in Portsmouth. Three of these schools will see their works included as part of the Community In Motion projection.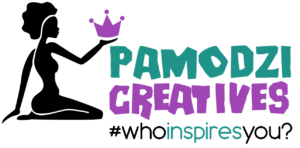 Corpus Christi School: Making New Friends
The filmed dance project which lasted a fortnight included 13 young people who were tasked with building a narrative around the taught choreography. The group decided to create a dance film based around 'making new friends'. The group devised a story line, chose filming backdrops and even researched the music. One of the year group teachers from the school noted that the children "have really enjoyed being able to express themselves in a different way…they have made more friends from different year groups, which is lovely to see after the (lockdown) year we have had".  The filmed piece will be projected against a building within the city.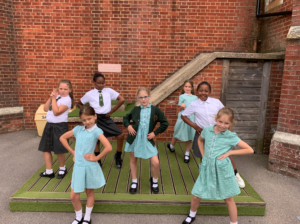 Flying Bull Inclusion Unit: If I Was A Super-Hero
This project titled "If I Was A Super Hero" was an animated photography project. Over the space of two days, young people from the Flying Bull Inclusion Unit were invited to create a story with them as a super hero and working in small groups they explored gestures and actions that could be captured with long exposure light trials. The lead practitioner noted that "The children were really engaged and talked about it with the artists a lot. We also saw how their play activity had been clearly influenced by their experience".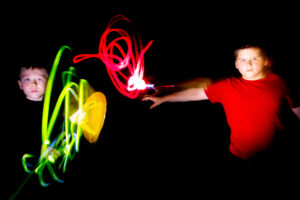 Medina Primary School: Our Glorious City
The year 5 class of Medina Primary School spent a week creating giant murals celebrating different aspects of the city of Portsmouth. They were also introduced to the software used and creative process within the design industry. Working in small groups, the class sketched their ideas and agreed on final designs. Templates of these designs were divided into component pieces which young people decorated individually. The class teacher noted that "The children have been speaking to parents, other teachers and friends about the exciting work they have done (they) have been absolutely buzzing with excitement at the thought that their actual creative work will be shared with different people in Portsmouth".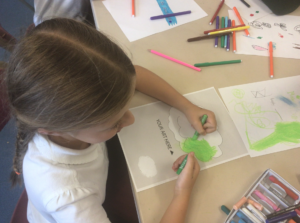 These school engagement projects wouldn't be possible without the help and support of the following people:
Roni Edwards
Roni is a Creative Producer and dance practitioner with over 14 years experience working within schools. She works with both the Portsmouth & Southampton school sports partnerships delivering REAL Dance and bespoke curriculum led dance through the Laban movement analysis framework. Delivery includes CPD training for staff. Each module considers cognitive & physical learning needs with clear assessment methods linked to movement analysis appropriate to each key stage
Roni is Director to Pamodzi Creatives which facilitates creative collaborations with a social justice theme and most recently developed the Creative Transitions project which creatively supported young people's emotional transition back to school.
Paul Gonella
As part of his professional photography and film making career Paul has developed a passion for teaching, principally through projects which have helped people to discover their own creativity through photography, film and animation. The larger projects can cover research, idea development, technical experimentation, production, post production and final evaluation with feedback. Paul often works in a team for projects, including working with teachers, TAs and fellow photographers.
Over the last 10 years Paul has taught photography and film making to thousands of people of all ages and abilities. He has worked in numerous teaching environments, including primary level, secondary schools, colleges and to University level. Paul has also taught photography to groups at education centres, charities and community organisations.
George Bodkin
George is founder of Pompey Banana Club; a creative collective, based in Portsmouth, influenced by the culture, habitat and language of the city. Always striving to use local companies to produce their merchandise as strong believers in supporting local communities and charities.
Emily Austin
Emily has been dancing all of her life, having performed and competed at both national and regional competitions in both team and solo categories. Having worked in ISTD syllabus work with KS1-KS2 children, Emily really found her vocation in her teenage years. Her passion for teaching and choreography has recently reached new heights with her work both at The University of Southampton as Dance Captain and her work as a dance teacher for Neptune Girls teaching such initiatives such as 'Dance 4 Mental Health' as well as coordinating and choreographing her own performance team. Within the community, she is delighted to provide dance instruction for Portsmouth City of Sanctuary in their work with refugee women in the city or those who have fled violence or persecution. Emily is very much looking forward to her first project with Portsmouth Creates.